30th May 2023
At Peatzeria, we have a delicious range of pizzas, from your standard recipes to more exciting and intriguing toppings. We also boast an incredibly experienced and knowledgeable chef. And an equally well-versed team front-of-house. But on top of all that, we've got even more going for us – we serve the most westerly pizza in Scotland, with arguably the best views to go alongside our jaw-droppingly good pizzas.
Why is our location important?
We'd argue that the location of any restaurant is important. Its surroundings, the ambience they set, the ease of access – all of these features affect how much you enjoy your visit and your food at the restaurant. But for us, being the most westerly pizzeria in Scotland is about more than just whether we're easy enough to find. Our location is part of who we are, part of our mission and our purpose. We are proud to be the most westerly pizzeria, and we are proud to be positioned on Islay.
As a modern bistro style restaurant, our contemporary style and Italian food stands out. We aren't like the other restaurants on the island, we're different. We strive to be different, to provide our guests with an experience that they can only find with us. By opening our doors, guests are thrown into another world. No more is Islay's slow, gentle world, as your senses are exposed to the scents, fashions and tastes of a city-style bistro. Here at Peatzeria, we provide a perfect combination of a modern bistro, brilliantly cooked food, and a friendly atmosphere.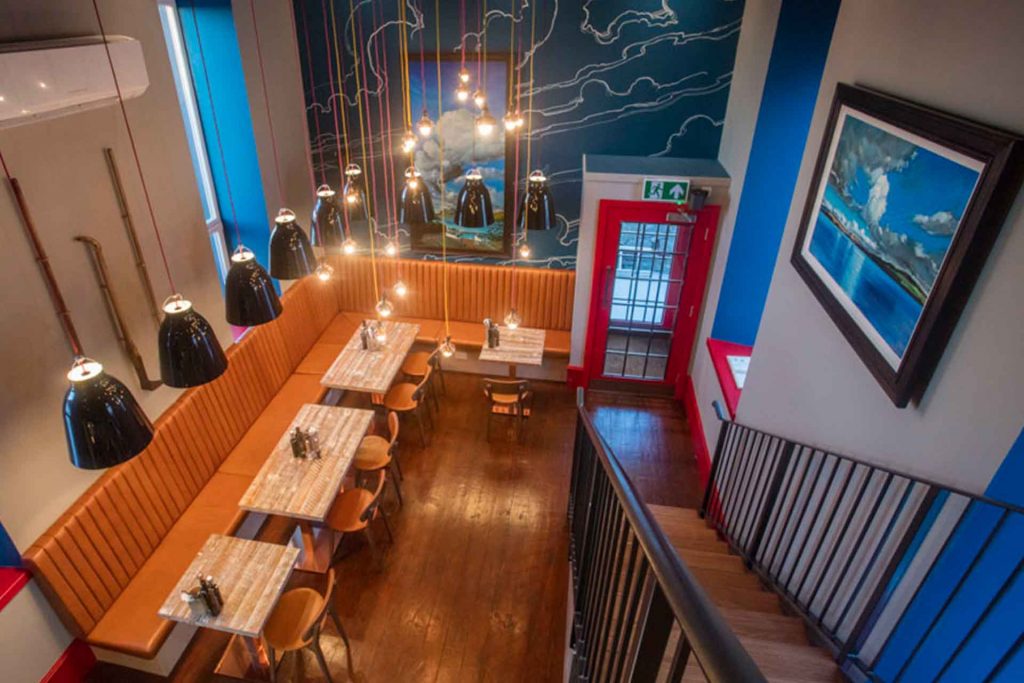 Eating Al Fresco
To help enhance this combination, in the summer we provide outdoor seating. This allows our guests to enjoy their delicious food, while gazing over the water. Both our indoor and outdoor seating is surrounded by Islay's intriguing history; our building is an Episcopalian church and is full of Peat cutting instruments, photographs of historic Islay, and murals that demonstrate exactly how connected we are with our island.
Our pizzeria brings a slice of modern life to our little island, and combines all of the wonderful things about Scottish life on Islay with interesting, new flavors and foods.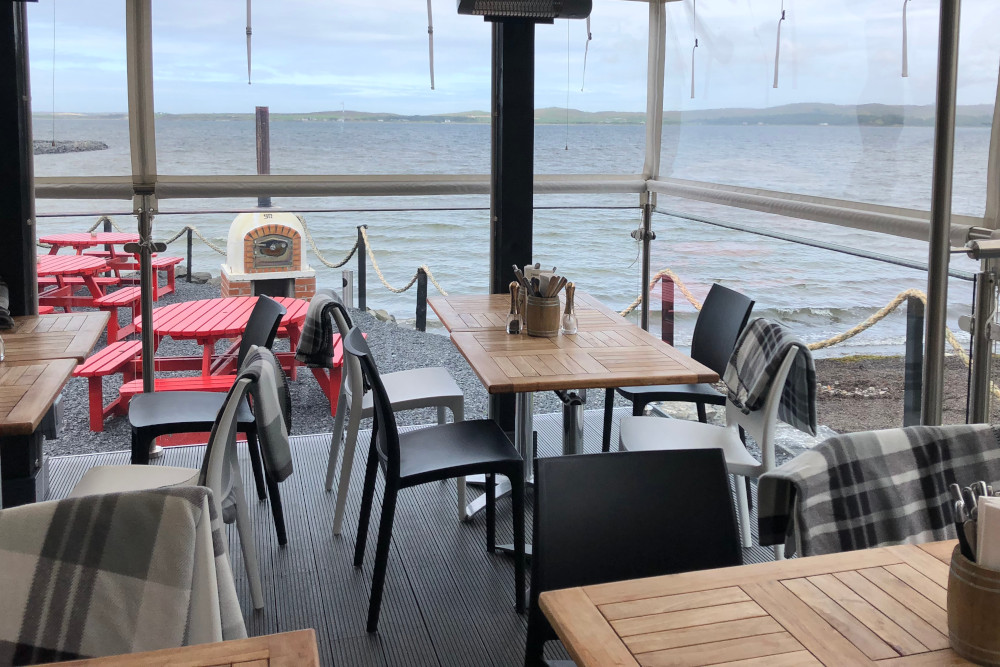 Combining modernity and history: our food
Our location is great for creating a unique experience as a restaurant, but our food is even better at it. As a pizzeria, we sell perfectly cooked Italian-style pizzas, but there's more to us than meets the eye. At Peatzeria, you can, of course, find your standard Margherita and American pepperoni pizzas. But we also push the boat out with our signature pizzas that celebrate the best of Islay.
Our signature pizzas are a wonderful mixture of Islay and Scottish culture with a taste of modern Italian cuisine. We have a range of seafood pizzas with fresh local crab, lobster, scallops, and prawn, and even a bradan rost pizza with fresh smoked Argyll mussels.
Come and visit us on Shore Street, where tradition meets taste
To truly understand why we're so proud of our history, our fresh modern look, and to try one of our incredibly Islay seafood pizzas, visit us today. Book online or pop in when you're passing to enjoy the most westerly pizza in Scotland!