27th November 2022
As far as we are concerned, a delicious dessert is the best way to finish off a fantastic meal. Whether you are going for the full three courses, or just fancy a main, bringing the meal to a close with a sweet treat is just perfect. And we are sure a lot of people agree – our customers certainly do!
Do you like a good helping of a chocolate-based pudding at the end of your meal? Or do you opt for something fruity? Maybe a new twist on an old favourite is more your thing? Or is a scoop of ice cream enough for you? Let's take a look at some of the delicious desserts available on our menu.
Delicious dessert 1. Nutella-filled Doughballs
These delicious little pockets of heaven are one of our most popular desserts. Gorgeous little doughballs stuffed with a spoonful or two of Nutella. For those of you who don't know what Nutella is, think thick chocolate spread with a hint of hazelnuts. Yum! Incidentally, did you know that Nutella is made by Ferrero and is the chocolate spread that is inside a Ferrero Rocher?
This delicious dessert is served with a scoop of vanilla ice cream. The combination of the warm dough and Nutella with the nice cold ice cream is just divine!
This is a top-class dessert in our restaurant but, if you can't make it to us to have your fix, here's a recipe that we think is a close second.
Delicious dessert 2. Peatzeria's Tiramisu
Tiramisu is a typically Italian dessert. Ladyfingers, soaked in coffee and marsala wine, are layered with a cream made from mascarpone cheese. The combination of the flavours, coupled with the creamy mascarpone, make this dessert a firm favourite. We sometimes create different versions of the desserts on our menu as specials. Our Limoncello Tiramisu was just that. A very special twist that was light and fluffy.
Did you know that Tiramisu literally translates as 'pick me up' or 'lift me up'. That's probably because of the coffee that is used in the recipe.
Delicious dessert 3. Homemade Sticky Toffee Pudding
Sticky Toffee pudding is a favourite across the world and our version is no exception. So much so, we have added this lovely dessert to our Christmas menu. A lovely sticky sauce drizzled over a beautifully moist cake that bounces back when you cut into it with your spoon. Wow!
This is a typically English dessert that is served with vanilla ice cream, cream or custard and is honest-to-goodness comfort food at its best!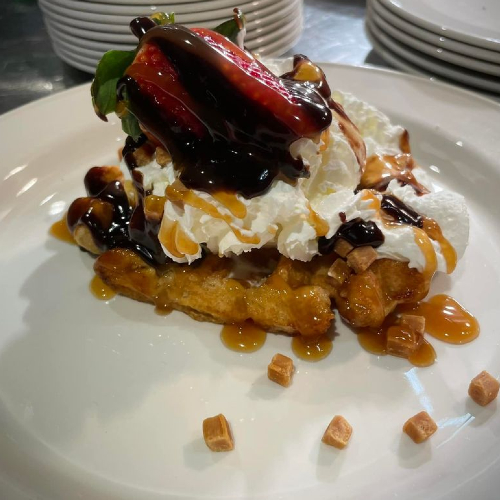 Delicious Desserts 4. Warm Sugar Waffle
Also known as Belgian waffles, this dessert is true indulgence. The waffle is warm and we top it with vanilla ice cream. Over the top, we drizzle butterscotch and chocolate sauces then top it with whipped cream and fudge pieces. The crunch of the waffle with the creaminess of the ice cream and cream make this dessert a real treat for all of the senses. It looks great on the plate. The butterscotch and chocolate sauces treat the nose. And the taste buds, well, need we say any more?
Legend has it that this kind of waffle was invented when the Prince-Bishop of Liège, a city in the Belgian region of Wallonia, asked his cook to create a pastry made with lots of sugar. The Belgian waffle was born and we are forever thankful!
We definitely encourage you to pay us a visit to give our delicious desserts a try. And, of course, our sumptuous starters and magnificent mains. Get in touch to book your table, or follow us on Facebook to see what delicious desserts we are serving up!