31st July 2023
Top 10 things to do when you are visiting Islay in the Winter
Islay is a brilliant place to visit, regardless of your chosen season. In the Winter, though, it's particularly special. For those visiting Islay in the winter and looking for fun and interesting things to do, look no further! Here is our list of the top 10 things to do . . .
1. Watch the birds
Islay is absolutely bursting at the seams with beautiful flora and fauna all year round, but it gets even more incredible come wintertime. In the winter, those visiting Islay can enjoy the brilliant sight of the migrating geese who roost on the tidal mudflats during the daytime and then fly together to Loch Gruinart when dusk hits.
Watching the birds fly overhead through the cool dark winter sky is impressive and worth coming to Islay to see. If you're looking for cool photo opportunities, watching the geese is definitely something you must do on the island.
2. Visit a distillery
When in Scotland it's almost criminal to not visit a distillery. The island of Islay has nine of them for you to choose from, but the two most popular distilleries on the island are Islay Gin and Bunnahabhain Distillery. You can take a trip to the distilleries on the island and enjoy whisky and gin tastings, as well as distillery tours that are as educational as they are interesting.
With Scotland's cool winter weather at the latter end of the year, a few sips of something alcoholic will be welcomed to keep you nice and warm. You might even want to buy a bottle for the rest of your trip!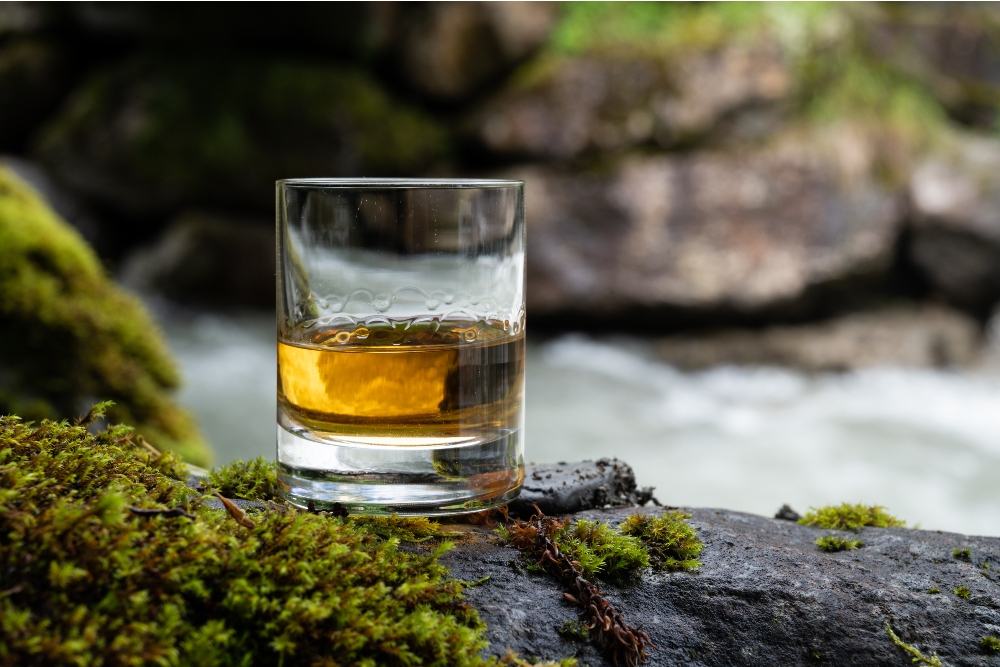 3. Enjoy the dramatic scenery
Scotland is known for its natural beauty, and Islay is absolutely no exception to that. In the winter, though, the scenery around the island goes from beautiful to intense and dramatic scenes worth visiting and photographing. The woods are no longer green and luscious, but sharp and daunting against the grey Scottish sky, and the once-green hills are dusted in frost and snow.
By visiting Islay in winter, you're guaranteed to get some incredible sights, and you'll miss most of the tourists who tend to visit in the warmer months. Get yourself some memories and photographs that will stand out from the crowd simply by visiting a little later in the year.
4. Stargaze
Islay has some of the best skies for stargazing. With it being so far north, and such a small island, it does not suffer from the issues of light pollution and clouds in the way that other towns do. On a clear night in Islay, there are thousands of stars that are visible to the human eye. In winter, the island gets darker so much earlier that the stars litter the sky much sooner and for much longer! For those who want to stargaze and pick apart the constellations all night long, Islay in the winter is the perfect location.
Why not pack a hat, gloves, big blanket, and bottle of proper Scottish whisky to keep you warm as you stare up at the night sky? The perfect romantic addition to your holiday in Islay, or perhaps an educational evening with the help of some stargazing apps.
5. Warm up with some pizza
After all your exploring, stargazing, and drinking, you'll need to rest and warm up a little. Why not do so with some super tasty Scottish pizza? Handcrafted to bring the taste of the big city to our small island, our restaurant combines proper Scottish flavours, Islay ingredients, and exquisite Italian techniques to create a culinary delight like nothing you've ever tried before.
If you're visiting Islay in the winter, a trip to visit us is an absolute must to stay nice and. And to keep your energy levels up for all the exploration you'll be doing. You can even get pizza to take away if you want to enjoy your food under the stars or in the great outdoors.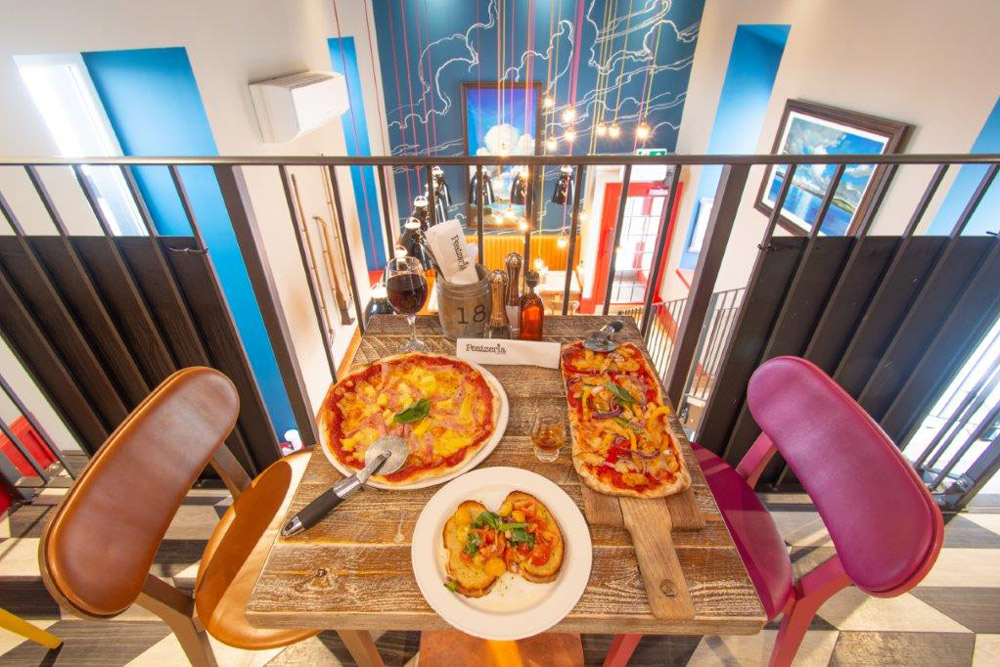 6. Visit Bowmore
One of the most popular locations in Islay is the town of Bowmore. In it there is a sea loch, Lochindaal, that is absolutely stunning. Bowmore is also home to one of the island's distilleries, which you can tour and purchase smoky, fruity whiskies from to enjoy. Moreover, Bowmore is home to an interesting round church, and a host of cafes and stores that will keep you busy all day long. For ideas of what else to do in Bowmore, look here.
7. Dunyvaig Castle
Scotland is packed full of castles, some in better states than others. Dunyvaig is an ancient castle that is now left in ruins atop a beautiful hill. It was built in the twelfth century by Somerled. And has since been held by the Macdonalds and Maclans. It was even visited by Mary, Queen of Scots at one point! Then, in 1677, Sir Hugh Campbell pulled the castle down when he moved to Islay House.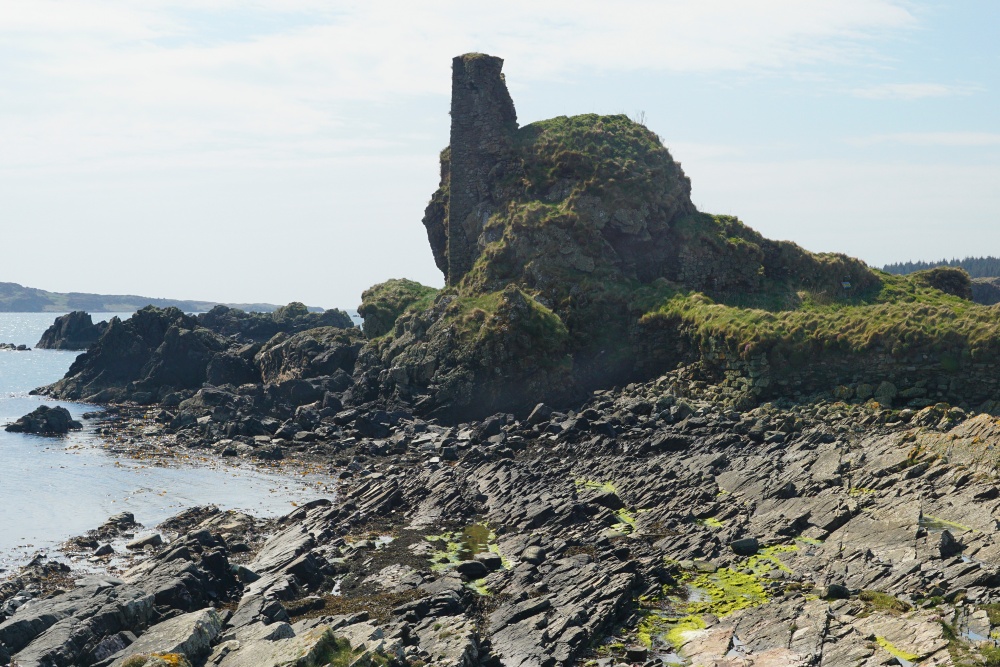 8. Persabus Pottery and Ceramic Cafe
Persabus is one of the highest-rated attractions on Islay. It is a cafe full of uniquely designed pottery available to view or purchase by those who visit. Or you can enjoy drinking tea and looking at all the beautiful pottery painted with Islay landscapes.
9. Kildalton Cross
The Kildalton Cross is a high Celtic cross in the churchyard of a former parish church. It dates back to the 8th century AD and is considered to be one of the finest surviving Celtic crosses. It has lasted against time incredibly well and is possibly the most perfect crosses in Europe. Situated in the old Kildalton Church, the cross stands among medieval grave slabs next to the roofless rectangular building.
10. Isle of Jura
The neighbouring isle is Jura. And it is home to some truly incredible mountains and a population of around 6,000 roaming wild deer. The island, like Islay, is also home to great whisky, but it was also once home to George Orwell! If you want to explore beyond Islay when you come to visit this winter, then take a short trip over to Jura. You'll get to see even more of the dramatic Scottish scenery in the winter!
Whatever you choose to do when you visit Islay in the winter, you will have an amazing time! And if you are staying at Islay Cottages, you get a 10% discount on our delicious menu.